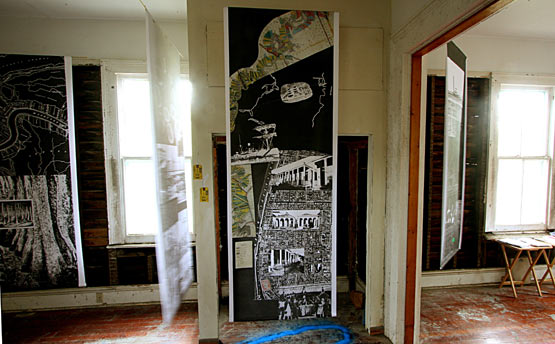 House/Atlas
New Orleans
"A love letter to the shotgun house"
– Jen Graves, The Stranger
HOUSE/ATLAS was created by Fels in collaboration with his wife Patricia Tusa Fels, for Prospect 2, the 2011/12 Biennial in New Orleans. An architect and historic preservationist, Patricia is a New Orleans native and has worked extensively researching older building forms around the world. Her grandparents lived in a shotgun house which no doubt sparked her abiding love for the New Orleans house form. The installation by the Fels in a house abandoned after Katrina, explores the narrative, network and geography that fans outward from the home itself, as it connects back into the city's history and forward to continued function and usefulness.
House/Atlas examines how materials, builders and craftsmen have come together to create and sustain this venerable housing icon. The basic materials traditional to the New Orleans shotgun house were always near at hand; the installation examines the trajectories they took to get there.
New Orleans grew dramatically during the 19th century, spreading out to include the lands of former plantations along the Mississippi River and become the US's 3rd largest city. With that expansion, the shotgun house became a common housing form. Essentially modular, the rooms were regularly sized, easy and inexpensive to build, and the house form allowed for expansion as families grew. The wood frame home raised on brick piers became a ubiquitous, indigenous response to the hot humid climate and alluvial soil of New Orleans. Despite the passage of over a century and a gauntlet of difficulties, tens of thousands of these houses remain standing in New Orleans. Built as homes by and for immigrants, former slaves, and working class families, the shotguns have continued to provide affordable housing efficiently and gracefully in the city.
The shotgun is the ultimate sustainable home: made from local products, built by resident tradesmen, and lived in by the workers of New Orleans. High ceilinged, long in plan, and lifted off the ground, the house captures river and lake breezes. Front stoops and porches provide a social center. Communities stay connected because people know their neighbors and talk to them regularly. The shotguns have endured floods, poverty and neglect. Being rediscovered by young people, the shotgun is poised for a renaissance, re-establishing its presence as a vital element in New Orleans life and culture.
House/Atlas was funded by the Ella West Freeman Foundation; the house for the installation on Burgundy St was lent by the Preservation Resource Center, which is spearheading renewal of the many abandoned shotguns in New Orleans, especially in the 9th Ward, devastated by Katrina.