Cornish College of the Arts
Seattle, Washington
"In actual experience, there is never any such isolated singular object or event; an object or event is always a special part, phase, or aspect, of an environing experienced world- a situation."
– John Dewey, Logic: The Theory of Inquiry, Henry Holt, NY, 1938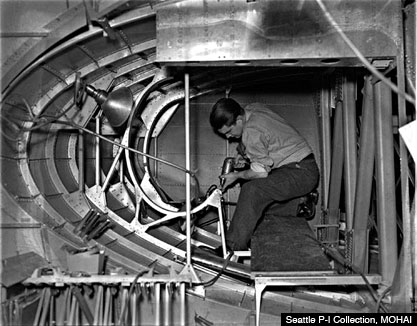 In 2007 Fels became the first visual artist in residence at the venerable art school. Asked to provide students with a sense of his practice, he brought them into an on-going project on the symbolic meaning of aircraft materials.
One of the tangible offshoots of the residency has been the collaboration between Cornish and the Pratt Fine Arts Center. Operated by the City of Seattle, Pratt is a well equipped public art-making and fabrication facility. Having taught there, Fels knew that Pratt operated a foundry, which Cornish is prohibited from doing because of zoning laws. Airplanes being made of aluminum, it seemed appropriate that students have the chance to cast the metal and work with it directly. The two institutions are now looking forward to further collaborative relationships.
Fels also arranged for visits to Seattle's Museum of Flight, where students looked into early production of wooden airplanes, and took another trip to the Museum's restoration facility, where retired Boeing workers repair and rebuild historic aircraft. Having volunteered at the restoration facility, Fels knew first hand of its unique collection of aluminum-working equipment and the irreplaceable expertise of retired Boeing production line workers. Much of Fels' approach to art involves building partnerships and researching opportunities; his time at Cornish was a live laboratory of a kind, demonstrating his methodology to the public.
Fels' "pallette" is shaped by what he learns, who he meets, and what he sees by putting himself in novel environments like the restoration facility. Staffed by elder craftsmen from a time when commercial jetliners were still made by hand, Fels became fascinated by what the ex-Boeing workers knew from decades of assembly. Extending himself into their world offered friendship, and growth in material knowledge, technique, and ways of thinking. Yet for all the richness of this approach, the necessary skills for crossing into new cultures are apparently neither easily understood nor embraced. As an experienced teacher, Fels feels both compelled and equipped to provide access into this way of functioning. Despite growing discussion of the power and importance of interdisciplinary work, few seem experienced or poised to carry it out. Residencies offer Fels an opportunity to make visible how such an interchange actually takes place.