City of Hope National Cancer Research Center
Los Angeles
Over time, the thingness of technology has diminished in importance to relation to the embeddedness of technology. In a crude history of technology, as technologies increase in complexity, the "artificial" part, the tangible mechanical device, plays a smaller part in the totality than the surround of human behaviors, institutions, meanings, know-how, expertise …
– Leo Marx, "Culture's Technology, Technology's Culture," 1995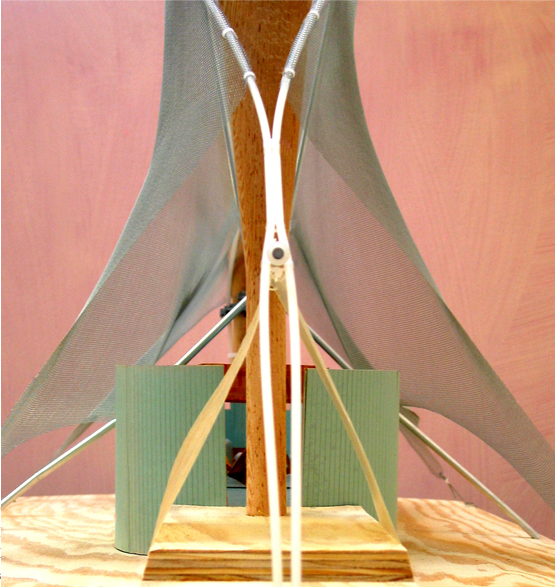 The hundred acre City of Hope houses scores of buildings on a state of the art biomedical research, treatment, and education campus. It is also home to a conventional sculpture garden and a collection of paintings placed throughout the hospital. In 2003, Fels was invited to be the first artist in residence, asked to examine the idea of creating art specifically about the center's research process and its interaction with clinical trial volunteers. The artworks on the campus had been created, donated, and purchased to make patients feel good. Fels was contacted to find a way to make art that suggested the complexity of the transfer of knowledge that was happening there everyday.
A nine-month residency involved several trips to the facility where Fels met with cancer researchers, physicians, hospital and programs administrators, donors, past and present patients, staff, architects, and facility planners. It became evident that most all of the on-going research, no matter how technologically advanced, relied on the ability of the researchers to identify and evaluate visual patterning.
Having experienced the connection between the act of looking and the science behind the treatment, Fels began a plan for a large permanent installation that would incorporate transformative spaces, imagery gathered from the researchers, and interactive devices for seeing. In exploring the history of the innovative facility, he learned that it had begun many decades before with the purchase of land by pattern cutters working in the dusty sweatshops of the garment trade. They were looking for clean, inexpensive desert air as a recuperative place for the many TB sufferers among them. Connecting the pattern cutting of the past and the pattern seeing of the present-day researchers seemed a fine fit. Fels completed a proposal for large scale interactive artwork.
His proposed artwork, like the sun screens built into the new hospital, was created in layers: layers of information, and layers of visibility and invisibility. Interviewing patients, it became apparent that almost none were aware of the depths of research being conducted on-site, or how the seemingly abstract science might produce concrete cures. Fels saw the enormous potential for art to bridge the gap between research and medical practice. He designed an interactive environment where patients, their families and other visitors could take part in the actual looking that so characterized the climate of inquiry at City of Hope.