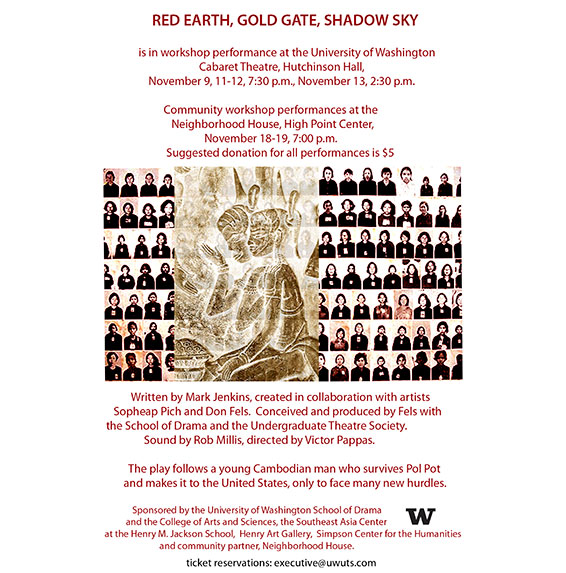 Red Earth, Gold Gate, Shadow Sky
Seattle, Washington
In 2005, Fels was finishing up his stint as a Fulbright Research Scholar in India (www.vascoproject.com) when he was connected by a friend to Jay Stansell, a Federal Public Defender in Seattle concluding his own Fulbright in Phnom Penh. They exchanged emails, and Stansell urged Fels to come to Cambodia to meet some people there. Don and Patricia traveled to Siem Riep, spent several days at Angkor Wat, and then traveled to the capitol city.
In Phnom Penh, through Stansell's introduction, Fels met Bill Herod, a Protestant missionary and experienced aid worker. He was heading up a group called RAP (Returning Assisting Project) that offered a safety net to Cambodian-Americans being deported to Cambodia. Though this was the first time Fels had heard of the deportations, they had been underway since 2002- to date over 400 of these individuals have been deported.
Most of the deportees were born in Thai refugee camps to parents who miraculously survived Pol Pot's killing fields. After waiting years in the refugee camps, the families immigrated to the United States, arriving with refugee status. Often brought to the U.S. by church groups, they settled in poor neighborhoods in a few cities, including around Tacoma and Seattle. They were often illiterate in both English and Khmer, the language of their homeland. Those who could read and write had been among the first killed by Pol Pot.
A decade before his trip to Phnom Penh, Fels had been asked to work as an artist with some of these very families in the Hilltop community of Tacoma. Their middle-school aged boys were in trouble at school, and neither the schools, nor often their families could find a way to connect with them. Working with Tim Gahm of Asian Counseling Services, Fels developed a keen interest in the kids and their lives. They lived in African American neighborhoods, where the role models were mostly drug dealers.
Herod explained that the young men he was attempting to help in Phnom Penh had been arrested in the US for felonies, and thanks to a new law put in effect by George W. Bush, because they weren't citizens (having failed to turn their refugee status to citizenship), they were deported. Most had never before been to Cambodia, though as a group they are called returnees.
Fels shared with Herod the work he had done in Tacoma, and Herod invited Fels to return to Cambodia to work with the deportees. It took two years for Fels to secure grant funding to enable that to happen. In 2007, Fels came to Phnom Penh for 2.5 months. By then RAP had become RISP (Returnee Integration Support Program); it is now RISC (Returnee Integration Support Center), a returnee-run NGO.
During his stay in Phnom Penh, Fels conducted interviews with many of the returnees, and invited his friend and colleague, playwright Mark Jenkins, to come to Phnom Pen to meet some of the men. Their stories were full of raw drama, and Fels felt that Jenkins was the person to tell their stories on the stage. He was convinced that with a play being performed, people could hear about their plight and pressure the US government to end the deportations.
Jenkins used Fels' notes, his own taped interviews from Phnom Penh, and a great deal of research he conducted in Tacoma and Seattle to write the play. He met with Khmer ex-gang members, traveled with them to see others still in jail, as the play went through several drafts. Young members of the Seattle Khmer community, most significantly Sreymom Serey and Many Uch, embraced the idea of the play, and actively recruited other young Cambodian-Americans to participate. The first performances, done as a staged reading, primarily with first-time performers, occured in 2012 at the University of Washington, with veteran director Victor Pappas directing.
Fels helped frame the visual sense of the performance, with crucial assistance from artist Sopheap Pich, whom Fels had met in Phonm Penh and who he introduced to Jenkins there. Fels was able to have Pich invited to exhibit at Seattle's contemporary art museum, the Henry- his first exhibition outside Asia. Together, in person in Cambodia, via email, and in person again in Seattle, the three wove a sense of how the play could look.
Red Earth, Gold Gate, Shadow Sky received the 2013 ACT new play award and was presented again as a staged reading at ACT, directed by Victor Pappas that year. In 2015 a fuller performance was mounted, Pappas directing, at the U/W Jones Playhouse Theater.