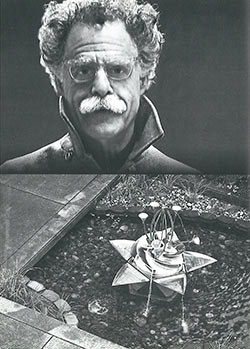 For nearly four decades, visual artist Donald Fels has been active in the U.S., Europe and Asia. He holds a B.A. in Art and American Studies from Wesleyan University, and an M.A. Ed. with Honors from City University where he was the Board of Governor's Presidential Scholar. He studied at the San Francisco Art Institute and the University of Washington. Fels has been a Fulbright Fellow to Italy and a Fulbright Senior Research Scholar to India. He has twice received funding from the National Endowment for the Arts. He's a grant recipient of the Jack Straw Foundation, Artist Trust, the Ferguson Foundation, the Goodfellow Foundation, the Ella West Freeman Foundation, and the Washington Council on the Humanities. He was a Whiteley Fellow at the University of Washington's Friday Harbor Marine Laboratory from 2002-06, and a Civita fellow of the Northwest Institute in 2012. Fels has received multiple grants and commissions from the Puget Sound regional arts commissions.
The Washington State Arts Commission recently purchased an entire series of paintings he completed in South India on the effects of globalization for permanent installation at University of Washington Tacoma Honors College. Fels' work has been exhibited at museums including the Seattle Art Museum, NW Museum of Arts and Culture, Center on Contemporary Art, Chicago Cultural Center, Cultural Development Authority Gallery, Tacoma Art Museum, SUNY Plattsburgh, SUNY Potsdam, Devos Museum, Bellevue Art Museum, Henry Art Gallery, Bologna's Contemporary Art Museum, Bank of America Gallery, Boston's Institute for Contemporary Art, Penang Museum, and at UCLA, University of Puget Sound, Hoffman Gallery at Lewis and Clark College, Bellevue College, and University of Washington. He participated in the 2010 Venice Architectural Biennale, Prospect 2, the American Biennale in New Orleans in 2012, and in 2015, in India's bienniale, held in Kochi, Kerala. His work is in collections worldwide.
Fels has inaugurated artist residencies at Seattle's Museum of History and Industry, the Bellevue Art Museum, the City of Hope Cancer Research Hospital in L.A., and was the first visual artist in residence at Seattle's venerable Cornish College for the Arts. In 2013 he was the first non-French artist in residence in the Paris in-situ program, and returned to the program in 2014 and 2015. In 2015, he has helped inaugurate the artist in residency in Machine Intelligence at Google.
He has undertaken a number of projects worldwide following the trade in commodities, resulting in work in a wide range of media, installations, and book manuscripts. He continues to theorize and make art about the relationship between the exchange of goods, ideas and culture around the world. As he follows the threads of ideas, he often finds himself in unknown territory, his favorite place to be.
Beginning in 1995, and for twenty years after, Fels was a trustee of the Henry Art Gallery, the contemporary art museum in the Pacific Northwest. He has written about art and culture for The Seattle Times, The Seattle Post-Intelligencer, The Seattle Weekly, City Arts, The San Francisco Chronicle, the Los Angeles Times, and Le Monde. He has been a guest editor of ARCADE, where he produced an issue called "The City of Ideas". He was founding President of the Board of Directors of REFLEX. He writes regularly for ARCADE and for crosscut.com.
A traveling exhibition of large-scale paintings he completed along with billboard painters in India, organized by the Tacoma Art Museum, has toured several museums. This work can be previewed at www.vascoproject.com.